The day is here! The limited edition Ragnarok  Viking Coffee is available in stores and online now! All the drawings are done by Lorna, our fantastic concept artist. More about her and her coming book here: Concept Art Book.
Short video about Jacobsen & Svart:

The first coffee is inspired by a good old friend we all know, Aslak the Warrior God.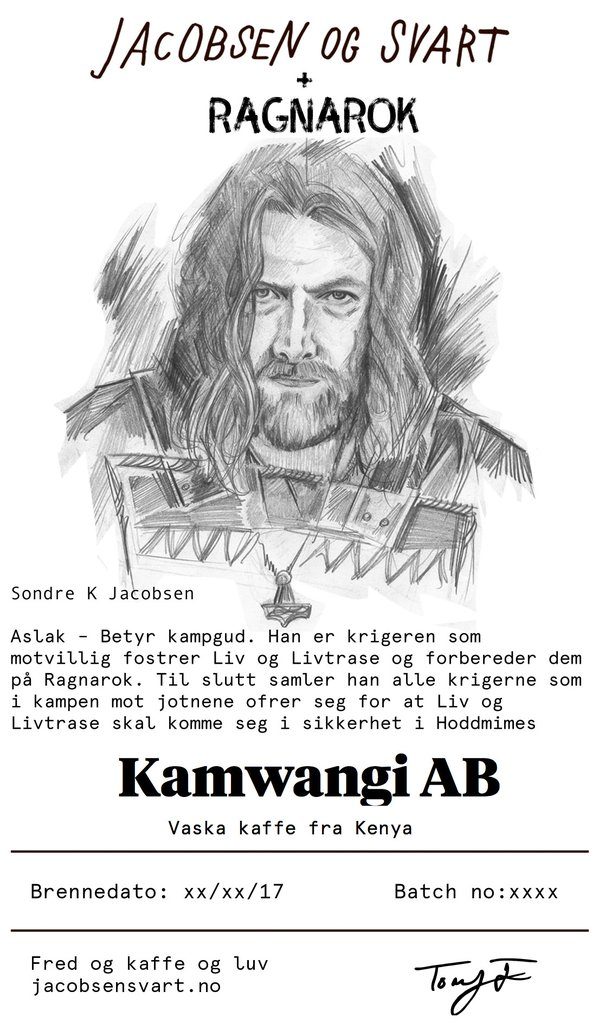 Aslak – Meaning Warrior God. He is the warrior who reluctantly takes on the task to raise and prepare Liv and Livtrase for Ragnarok. He gathers all the warriors to do battle with the Jotuns, risking their lives to protect Liv and Livtrase, so they can get safely to the cave Hoddmimes.
The drawing is inspired by our very own Sondre K. Jacobsen producer and actor in Ragnarok, Short Film.
Taste: Apricot, Papaya, honey.
Country: Kenya
Cooperative: Kamwangi in Kirinyaga.
---
The next one is a Einherje – based on Håvard Eide, a face you will be able to see both in Ragnarok, Short Film and our upcoming project Loke`s Daughter.
Einherjar (Old Norse einherjar = 'those who fight alone' or 'those who belong to an army') is the term used in Northern mythology for the warriors slain in battle, who are brought to Valhalla by the Valkyries after their deaths. 
Taste: Delicate, floral and lime.
Country: Ethiopia
Cooperative: Mekuria washing station, Konga district. Washed.
---
The last one is another Einherje – based on Sven Ole Frønes, a face you will be able to see both in Ragnarok, Short Film and our upcoming project Loke`s Daughter.
In Valhalla, the einherjar eat their fill of the nightly-resurrecting beast Sæhrímnir, and are brought their fill of mead (from the udder of the goat Heiðrún) by valkyries. The einherjar prepare daily for the events of Ragnarok, when they will advance for an immense battle at the field of Vígríðr; the battle which the "ein" (here meaning single-time) refers to.
Taste: Super sweet and prunes.
Country: El Salvador
Farm: Los Pirineos, Natural processed.
---
In addition to the Webshop you can also get the coffee at Jacobsen & Svarts coffee bar if you are lucky enough to live in Trondheim.